Dr. Michael A. Sugarman, Ph.D, ABPP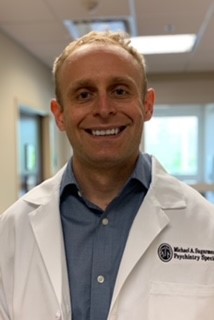 Dr. Michael A. Sugarman Ph.D is a Clinical Neuropsychologist with Psychiatry Specialists of South Carolina
Dr. Sugarman completed his Ph.D. in Clinical Psychology from Wayne State University with specialty training in Neuropsychology and completed his postdoctoral fellowship in Neuropsychology at the Bedford VA Hospital in Massachusetts in conjunction with the Boston University Alzheimer's Disease Center. He is board-certified in Clinical Neuropsychology by the American Board of Professional Psychology.
Since 2018, Dr. Sugarman has provided neuropsychological services in South Carolina. Dr. Sugarman specializes in completing evaluations for patients with suspected dementia, ADHD, or psychiatric conditions as well as evaluating for functioning in patients with neurological conditions such as stroke, traumatic brain injury, epilepsy, or multiple sclerosis.
In addition to his clinical practice, Dr. Sugarman has authored more than 25 research articles in peer-reviewed scientific journals and has expertise in Alzheimer's disease and other neurodegenerative conditions, neuroimaging, placebo effects, and malingering.
To schedule a neuropsychological evaluation, please contact our office or submit an email request.